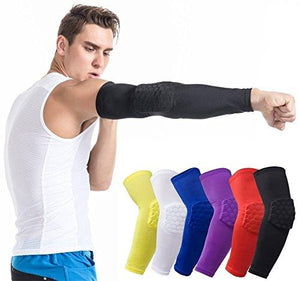 Compression Arm Sleeve - Elbow Support w/ HoneyComb Pad
SEE SIZE CHART IMAGE FOR YOUR PERFECT FIT!!
ADVANCED TECHNOLOGY: Pad pods beautifully conform to your elbow during bending and moving to give you ultimate flexibility and protection. 
DUAL-LAYER WICKING: Keep warm, stay dry with the most advanced material available. 
NON-SLIP INNER SILICONE STRIP: No worries if the sleeve will stay in place. A hidden, soft silicone strip hides inside at the top that prevents the elbow pad from slipping down when moving or getting sweaty
PHENOMENAL PROTECTION: StabilityPro elbow braces apply even pressure across your elbow joint, which provides superb relief from a variety of ailments including tendonitis, joint inflammation, tennis elbow, golf elbow, and other elbow pain. 
AMAZING UTILITY: Our elbow supports are great for any activity requiring arm movement, including Tennis, Golf, Baseball, Basketball, Crossfit, Weightlifting / Powerlifting, and Volleyball. 
INSTANT SUPPORT AND RELIEF— You will feel the difference immediately. Get fast pain relief with less stiffness, soreness, and discomfort. Our Power Support technology improves blood circulation and heats your muscles, getting more oxygen and less lactic acid build up so you can perform better, recover faster, and prevent injury.
Good comfortable, fit properly good price
Compression Arm Sleeve - Elbow Support w/ HoneyComb Pad
Compression Arm Sleeve - Elbow Support w/ HoneyComb Pad