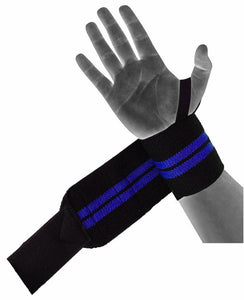 Weightlifting Wrist Wraps - Workout Lifting Straps
WANT TO QUICKLY & SAFELY IMPROVE YOUR LIFTS & MAXIMIZE YOUR GAINS? - With your new set of wraps, you'll throw up the most reps with the most weight of your life! Build strength evenly and optimum muscle appearance. These wraps are easy to apply or remove during exercise, although they are fairly stiff they remain comfortable.
PERFORMANCE: These high performance straps provide wrist support & stability for weightlifters, Cross fit, MMA, X Fit, WOD, Bodybuilding, Powerlifting, push ups, planks ,burpees & strength training. Boost your workout performance for more challenging advanced lifts & gym routines.
BEST HEAVY DUTY 18" WRIST WRAP (PAIR) Eliminate failed lifts & protect your wrist joints from injury during heavy or max lifts. The top grade wraps with premium stitching and high end durable extra wide velcro are fully adjustable & machine washable. The wraps are awesome for any pressing movements and overhead lifts!
HIGHEST GRADE, HEAVIEST DUTY
Built to outlast other wrist wraps on the market using high grade nylon materials instead of cotton or other cheap materials. Tested to perform in the most extreme conditions. Our wrist wraps are Guaranteed to outperform and out-last even the most expensive wraps on the market.

TRUE 18" LENGTH(We don't count the hook and loop like other brands)
This means higher levels of tightness adjustability and more support when you need it compared to shorter wraps. This length is also not too long, making the wrapping process quick and non cumbersome.
Wrist straps
These straps help by providing wrist support for my program of dumbbell exercises.
Quality wraps!
Simple and effective this product meets my needs. The color is a deep black with clean gray stripes. It's elastic enough to adjust tightness and holds. Price is right too. You gotta have these in your gym kit!
Pieces of cloth that hold my wrists in check
The first thing to fail on most of my lifts is my grip. Having these wrist wraps keeps me lifting heavy things and putting them down when I want to.
They're cloth and velcro. Tough to screw up. They do what I need them to do and seem like they'll last for a reasonable period of time before falling to pieces.
Exactly what my son needed and nothing more. Great price and fast delivery.
Good Support
Well worth the money. Significant improvement on my last pair. Definitely would purchase again.