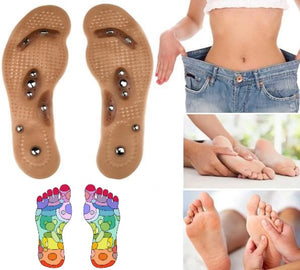 Acupressure Foot Insole - Magnetic Therapy - Stimulates Weight Loss!
Forget Expensive Chiropractors - Do Something For Your Back and Foot Pain Now.
Stops Achy Feet, Back Pain, Headaches, Stiff And Sore Joints, Muscle Pains & More

It Couldn't Be Easier: Just Slide These in your Shoes and Enjoy Your Pain Free Days

Get Back to Enjoying Life: No More Suffering From Pain All Day

No Expensive Massages, Dangerous Surgeries, Or Unsafe Medicines.
Seven strategically-placed magnets and raised nodes stimulate reflexology points, alleviating mild to moderate foot discomfort and rejuvenating the entire body.
These slimming magnets emit magnetic waves which weaken fat cells in your body. Lose weight by walking with magnetic insoles.
Help increase blood circulation to the feet and provide soothing pain relief.
Massage key areas of your feet with massage points & special magnets
Balance energy in your body to reduce stress, increase energy, balance mind & body, and increase fitness
Cooling magnets produce gentle magnetic waves with natural magnetic fields 
Awesome!I just bought another pair for my dress shoes. These isoles are amazing! Definitely feel more energized and feet don't hurt as much.
-Brian Tucker
I'm a profession Dog Walker and I just received mine yesterday and this is my first day wearing them. I'm on mile 7 of a 17 mile worth of dogs walks day...I love how they feel already and can't wait to discover the long term benefits... so far I feel like I'm getting a foot massage!
-Tammi Amckner 
I didn't these would work but after two weeks my back feel's like its 20 years old again! Love these
-Sarah Faith
Love them!
I have only used in my sandals around the house but they make my feet feel a lot better. Will try them in my workout shoes next.
Acupressure insoles
I have very bad arthritis in my feet, always in pain and so I tried the acupressure insoles and the difference is amazing!!! I highly recommend these.
Stability Insoles
Very nice 👌👍.. Massages the foot while working...