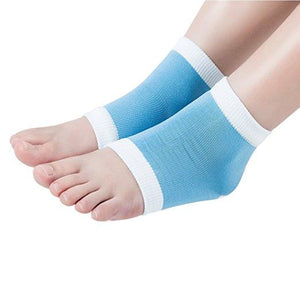 Heel Moisturizing Gel Socks Foot Massage Sleeves Deluxe Comfort Spa
You Will Receive a PAIR!
These unique Sleeves are lined with GEL that releases vitamin E-enriched mineral oil onto the skin surface to help soften and moisturize rough, dry, cracked heels.
BENEFITS: These socks soothe, massage, and energize your feet to help relieve pain and discomfort. It works to reduce muscle fatigue from extended standing or travel and is designed to absorb shock to reduce pain.
REPAIR YOUR DRY FEET: Built-in moisturizing hypo-allergenic gel in heel of socks can provide an intensive hydration treatment to soften your dry, hard, cracked, and rough skin on your Heels Ankles Feet. Also provide an improvement of the appearance by helping reduce fine lines of aging.
DESIGNED to absorb shock to reduce pain. Helps heal chapped skin and heel pain. Soothing mineral gel soothes and softens the skin. The Gel also helps improve dry, cracked, and rough heels.
VERSATILE: Great for men and women alike, our heel treatment sleeves are made of breathable material for superior comfort. Day & Night Relief – These gel socks for dry cracked feet can be worn during the day or at night, providing you treatment for cracked heals when you need it most.
Soothing Moisture – Works best to heal cracked heels specifically when paired with your favorite lotion, Shea Butter, or Aloe Vera.