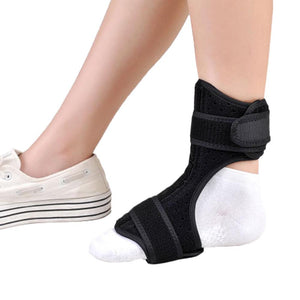 Plantar Fasciitis Night Brace Soft Stretching Splint & Sleep Support
If you're struggling with Plantar Fasciitis, this plantar fasciitis brace stands out from other treatment options. It provides compression for stretching but also mobility. Unlike these rigid options, the sleek design of our plantar fasciitis night splint makes getting a good night of sleep possible for those who struggle with bulkier boot-style options. 
How Does Plantar Fasciitis Brace Ease Your Pain?
The key with this plantar fasciitis night splint brace is it stretches from the ankle to the toes. A medical professional can provide more specific advice when it comes to the appropriate amount of plantar fasciitis stretching needed for relief from plantar fasciitis pain. But generally speaking, just a mild dorsiflexion foot stretch will suffice.
3 Reasons Why Our Plantar Fasciitis Splint is the Best:
The Ideal Fit

The soft splint is lightweight and low-profile. In order to provide more comfort, the night splint leaves your heel open for improved breathability. It also has a grip-friendly, non-slip tread along the bottom of your foot so you can safely walk short distances in it at night, like when getting up to go to the bathroom. Many different sizes are available in order to fit everyone who needs relief.

Easy to Use

The dorsiflexion strap is easy to unhook for a trip to the kitchen or bathroom in the middle of the night if desired. The splint is easy to apply and adjust thanks to the medical-grade fastener on the dorsiflexion strap and ankle component. It also features a removable alligator fastener clip that allows for full customization.

Unbeatable Quality

The night brace for plantar fasciitis are constructed of premium-grade neoprene. The innovative dorsiflexion strap provides a continuous foot stretch for plantar fasciitis, easing your heel pain. Also, our product is a simple black color and latex-free. To clean the soft brace, hand wash it in warm water with a mild detergent and air dry.