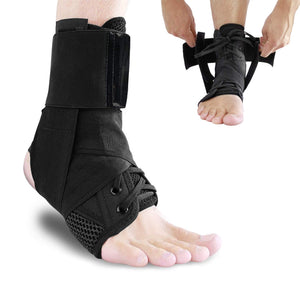 Lace Up Ankle Brace with Adjustable Stabilizer Straps
Adjustable straps for improved ligament stabilization - The figure eight strapping system provides the same stability as athletic taping, but is much simpler to apply, gentle on the skin, breathable and easily fits into a shoe. In addition, the strap maintains its stability during rigorous activities, unlike tape.

Maximum breathability and comfort - Our brace is super comfortable, breathable and is made of moisture-wicking materials for great odor control 

Compression for optimal athletic performance - The StabilityPro ankle Brace provides medical grade compression to boost circulation and reduce damaging muscle vibrations. Joint, tendon and ligament loads are reduced.

Improved confidence - Medical standard compression not only boosts circulation, but also provides positive sensory motor feedback. This enhanced feedback can translate to improved confidence and reduced injury rates.

DUAL FIGURE-8 STRAPS - Figure eight elastic straps mimic taping and deliver arch and ankle joint support
PREVENTS and/or helps RECOVER from common ankle sprains

SUPPORTIVE Design simulates athletic tape with figure-8 strapping pattern

COMPRESSION and COMFORT top strap for custom fit

ADJUSTABLE without unlacing or removing shoe

BREATHABLE ventilated tongue

COMFORTABLE padded lining reinforces closures
Ankle Support
This wrap truly supports my foot and ankle!
Amazing
My ankle was very weak and I bought a ankle brace and it works amazing. Love it
Great Fit and Quality
The lace up ankle braces are for our teen daughter who plays varsity and junior olympic volleyball.
Her shoe size is 8. The size small stabilizers fit perfectly. She is able to lace them up with ease. They fit well in her volleyball shoes and remain in place during games and practice.
Our daughter stated the braces help her ankles so they don't roll while playing.
Ankle brace for arthritis
These ankle braces work great. They give support so I don't accidentally move side to side. They are great for reducing any pain!
Brace yourself !
Bought 2 of these ankle braces that are as good or better than the one my orthopedic doctor provided me and at a fraction of the cost.