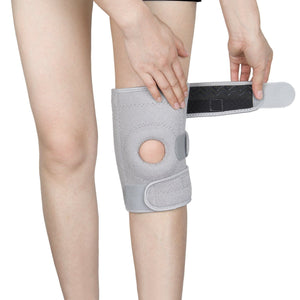 Knee Brace - Patella Stabilzier Support Sleeve!
OPEN-PATELLA DESIGN relieves pressure and reduces stress on the knee-joint during intense exercise and heavy usage. Gel Pad Helps with Inflammation and Swelling. Allows for Better Knee Mobility and Exercise Performance.
REINFORCED STABILIZER RING ensures the knee cap remains in its proper position, and distributes stress across the ACL, PCL, LCL, and MCL ligaments, lowering the risk of re-injury by guiding the knee cap into proper motion.
BREATHABLE & MOISTURE WICKING WITH NO SLIP SILICONE STRIPS Will Keep You Comfortable All Day Long while improving blood circulation even as internal perforations draw away excess perspiration from the skin.
COMFORTABLE to wear discretely beneath clothing on either leg; one size all since its adjustable, fits knees 12.5"-18" in circumference.
StabilityPro™ Superior Technology & Design
• The 3 Velcro straps can be attached to almost any point around the support for a tailored fit and prevent slippage during even the most active exercise.
• Our brace is also made with Anti Slip Silicone to prevent sliding and slippage.

The StabilityPro™ Knee Brace is Ideal for
• Rehabilitation from acute knee injuries & inflammation
• Reducing chronic pain around the patella
• Guiding knee motion
• Preventing (re)injury during heavy usage or exercise
• Post-surgery recovery
Stability knee brace
I purchased this knee brace for support and i suffer with arthritis, and this brace really helps me
Knee brace
It helps my husband with his knee problem. Easy to put on and wear.
Perfect
Works great. I love the convenient size
Awesome knee brace
I highly recommend this knee brace I wear it constantly love it!!
excellent products and customers services.
I'm very satisfied with the product and arrived one day ahead of scheduled. good quality and fit perfect. ordering is easy especially offered the best prices compare to other part stores.the services offered is incomparable. i highly recommend to my friends and to others.