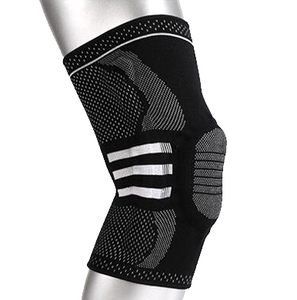 Knee Brace - Compression Support Sleeve ~ Meniscus Stabilizer
PROTECTS YOUR KNEE - This StabilityPro patella stabilizer knee support brace uses three-dimensional cross section covered fiber. It is able to act as both a Meniscus tear protector and an ACL tear protector and still allows breathable movement of the knee.
JOINT STABILITY - The anatomically contoured silicone gel pad surrounding the knee cap captures and redistributes pressure to protect against overloading the tendons and knee cap.
REDUCE KNEE PAIN – This knee support brace is made with elastic, silicon and nylon. With it's absorbent comfort it is a skin friendly solution to reduce knee pain and knee discomfort and help to prevent knee injuries. The nylon gives this product a no fade feature. Along with this, it has a metal spring for more knee protection for arthritis knee pain relief.
HIGH QUALITY & DURABLE – This sports knee brace has high quality construction and stitching whether you need a basketball knee brace, football knee support or any functional sports knee pad.
KNEE REHAB SUPPORT – For those who have just had a knee operation and are looking for a knee recovery option this kneepad can help with patellar instability or weak knees. This is the only knee sleeve that you will have to buy. 
TESTIMONIALS
This will be my 2nd knee support from StabilityPro. It really provides the support I need and reduces the pain significantly. I wear the XL and it stays in place ( 6'-0", 240 pounds). I am trying to avoid left knee surgery and this really gives me the relief I need to function. I like to bike and work out regularly and I can do it with relative comfort now. I even sleep with it on since it is light weight, with firm but not restrictive compression. 
-Malaco Johnson


Really like this support sleeve as it provides good stability without being stiff and cumbersome. Now if you would just make one like it for ankles, I'd be very happy to buy that as well!
-Kris Roberts


Best brace I've ever worn. This brace is so inconspicuous and easy to wear under clothing. The meniscus stabilizer is what I mainly needed it for and it is fantastic.
-Judith W Moore
Great product
Feels good and fits great very happy
Knees Improvement
Knees showed great improvement after wearing brace
Knee Brace - Compression Support
Great knee supports
This is my 2nd set as I wore my first ones out after some years of everyday use. I put them on every day right before I put on my socks. I really don't know what is wrong with my knees but this make me feel much better. Buy with confidence.
Compression support sleeve
Second one I have got from Stability Pro and they have both worked good!