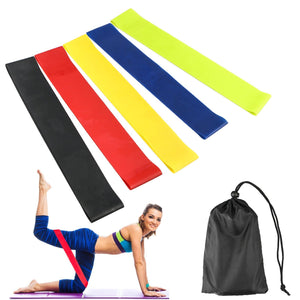 5 Pack Resistance Band Loop Workout Set with Gym Carry Bag - Progression Strength Levels
High end exercise bands. Our 12″ by 2″ heavy duty resistance loop bands are made of 100% natural latex – free of non-natural Thermoplastic Elastomer (TPE) and no rubber smell – and come in 5 varying resistance levels up to 50 pounds. 
5-10 lbs
 Green
15-20 lbs
 Blue
25-30 lbs
 Yellow
35-40 lbs
 Red
45-50 lbs
 Black
Great with any workout. This resistance band set can be integrated seamlessly with every popular workout program including Yoga, Pilates, and more. Or use them for general exercise, stretching, strength training, power weight programs. 
Multiple uses. While these resistance bands are often used for sports and fitness, physical therapists love these physical therapy bands (rehab bands) to help them rehabilitate their patients. Our stretch bands work for people suffering from leg, knee and back injuries and help in recovery from torn MCL and ACL, knee replacement, patella and meniscus rehab. 

For the fitness on the go
The four loop bands roll and fit perfectly inside the included carry bag, which can easily be transported in a purse, briefcase or bookbag! 
Comfortable and Durable
Being comfortable is a key factor in working out and sticking with your routines, and the StabilityPro Exercise Resistance Loop Bands are ergonomically designed to stretch and contour around your hands, legs, and thighs without any pain or chafing.

Versatile
The StabilityPro Exercise Resistance Loop Bands are specifically designed to be easily incorporated into all types of workouts. Strengthen your arms, legs, core, and buttocks with easy implementation into any of your typical stances, stretches and poses.
Great
My order was delivered on time. I love my shapewear. I will order Stabilitypro again.