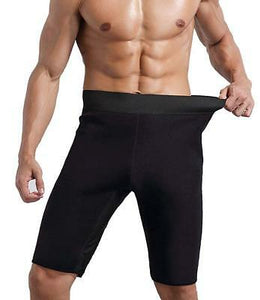 Mens Neoprene Sauna Shorts ~ Sweat Out Weight Loss!
These comfortable and lightweight sauna shorts are made of neoprene and were designed to get you sweating up to 3 TIMES MORE than regular gym clothing.
Simply wear them while working out or while performing daily activities and watch your body TRANSFORM. 
Don't worry - the outer layer is super absorbent so you're always dry on the outside.
Key Benefits:
Its unique fibers and material produce higher compression in the abdomen and legs resulting in more sweating. The scientific design and compression help you correct posture, flatten abdomen, firm tummy and slim legs leading to a more molded figure and visually trim weight.

The stretchy fabric molds and moves with your body so you feel relaxed while performing any activity.

The trendy simple design looks great and matches with any combination of workout tops or shirts.

The neoprene preserves body heat and stimulates sweat during exercise. Its revolutionary design helps you achieve results faster and easier.

Perfect for exercise, daily activities, or for any form of physical activity. Wear the shorts around the house, when you're exercising, running errands or going out. You'll have a firmer posture and be sweating all day.

Its inner layers increase body temperature and sweat while its outer layer is super absorbent, so that you sweat on the inside and stay dry on the outside.
Runs Small choose 2 sizes larger than normal!
Everything I wanted.
I purchased the neoprene sauna shorts and t-shirt from Stability Pro, less as a weight loss aid, and more as a method to keep soft and connective tissues warm during workouts. The additional benefits of weightloss in stubborn areas are welcomed as well. Fine product, five stars. I will be ordering a waist trainer for my wife, and a shoulder stabilizer/back belt for myself next.
Mens Neoprene Sauna Shorts ~ Sweat Out Weight Loss!
Good product
I like the way it is made. The double sided cloth material makes it easy to get on and off. So far very happy