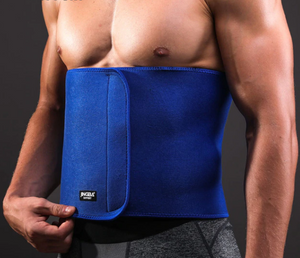 Men's Fat Loss Sweat Belt - Stomach Trimming Waist Trainer!
PREMIUM  WAIST TRAINING BELT - Engineered to help you lose weight and optimize your metabolism. Shed that extra belly fat! Each StabilityPro Waist trimmer belt is designed with superior craftsmanship to retain optimal body temperature in the abdominal area - assisting in fat loss and the improved burning of calories during exercise
One Size fits 28" to 48" Waist Size
MOISTURE REPELLING NEOPRENE MATERIAL - Special ANTI SLIP flex design to repel moisture and stress ensuring the prevention of bacteria build up and eliminating unwanted odors common with lower quality variations.
GET YOUR SWEAT ON: Sweet Sweat Waist Trimmer increases your core temperature during exercise enhancing thermogenic activity and sweat.
CONTOURED & FLEXES FOR CUSTOM FIT: Our Waist Trimmer is contoured to fit around your waist comfortably and is naturally flexible, so it adjusts to your shape & size allowing for extra back support.
How it Works
We have developed the most powerful waist trimmer on the market that is shown to increase blood flow by up to 15 times to the abdominal area.
By wearing the Shred Belt, you allow your body to reach the fat cells in your midsection and increase your fat burning capabilities by as much as 300%.

With Support from the StabilityPro Waist Shaper - you can expect:

- An awesome ab workout 
- Improved circulation 
- Belly Area Fat Loss 
- Stimulated weight loss 
- Improved comfort fit - Enhanced workouts
Items were good fit perfect
Stability pro
I needed support for my back plus it gives me the ability to lose weight.
Men's Fat Loss Sweat Belt - Stomach Trimming Waist Trainer!
The item works as described, I purchased similar products in the past and they did not perform well. Stability Pro sells products that really work, if you are looking to lose that stubborn belly fat or heal certain parts of your body Stability Pro would be the go too place to purchase these tpyes of products.