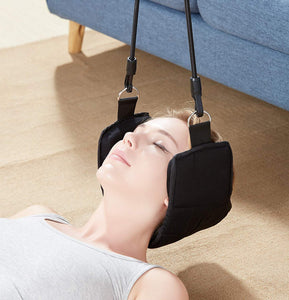 Neck Hammock Cervical Traction Device - Natural & Effective Pain Relief
The Neck Hammock is a simple device that attaches to any door for neck pain relief in just ten minutes or less. Simply wrap it around any doorway, lie down, stretch out your neck muscles, and say goodbye to neck pain.
Our head sling for neck pain uses cervical traction to relax and stretch the muscles throughout your neck and spine. Through this process, problem areas will gain increased mobility and pain relief right in the comfort of your very own home. 
Best of all, you can use our cervical traction device along with your current physical therapy regimen for the greatest relief possible.
Due to its portable and convenient size, you can keep the Neck Hammock with you at all times. All you need is a sturdy door and a few minutes to feel better instantly. Now you can have a treatment plan for your chronic neck pain whenever you need it and wherever you go. 
Whether you suffer from muscle spasms, pinched nerves, or any other neck problem, our home cervical traction unit will provide you with the instant relief you need. Get rid of neck pain for good with our at home traction device today. 
Neaven on Earth (NeckHeaven)
The neck hammock is unfortunately apart of my life. I've been using make shift ones out of a towel/extension chord/ door nob. This is so much better/comfortable. I ordered two they're so great. One for travel and one for home. I'm a music producer/ engineer so I'm constantly hunched over the mixing board. I keep one with me at the studio for a 10 min break if the pain from a broken neck years ago (C5,6,7) becomes excruciating and I need to decompress. It's an absolute life saver. Highly recdomend it AND THE neck deal with the pump. I do the hammock for 10-15. Then put the neck brace within pump on after for 45 min. I'm so glad Infound your products. So if U get the hammock get the neck brace with pump. Diamond Duo 4real. Also never hurts to throw a medical marijuana joint into my 1 hour hammock plus neck pump brace routine. So fortunate to have been able to stay away from opiates due to the stability products. There's my review good luck. ~
@ThaRealAaronSr206
Seattle, Wa
hThe stretching the neck muscles helped my neck and back. I'm glad I got this. Nice!
Neck Sling
Works great! Had s little trouble figuring out how it works but satisfied!👏