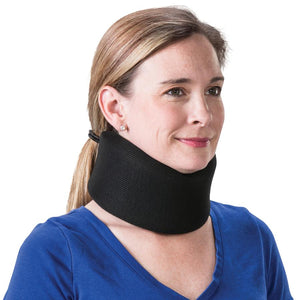 Neck Support Pain Relief Brace Cervical Traction Collar - 3 Sizes!
SUPERIOR PAIN RELIEF AND INJURY SUPPORT: The StabilityPro Cervical Neck Collar supports the jaw and neck while limiting mobility to relieve pain and pressure in the spine. Realigning and stabilizing vertebrae, the soft foam collar can be worn throughout the day and while sleeping for superior support and pain relief. The non-rigid neck brace will also relieve headaches caused by cervical strains and sprains. Useful for post-operative rehabilitation and injury support.
CONTOURED FOR COMFORT: Ergonomically designed, the plush foam cushions the jaw and neck for a comfortable, supportive fit. The foam is contoured to closely fit the chin and jaw for maximum comfort.

PREMIUM BREATHABLE MATERIALS: Latex-free foam is soft to the touch and flexible, perfect for use while sleeping. The foam is covered with a breathable knitted material that keeps the neck dry by providing proper air circulation.
Can be easily Adjusted so that you can set your desired level of compression!
Designed with an extended hook and loop closure to ensure a proper fit. Medium density foam with contour design for-restricted flexion. 

This collar, when properly positioned under the jaw, unloads the cervical neck & spine zones by supporting the weight of your head head. It also helps keep the neck warm and serves as a reminder to limit head and neck motion.

Ideal for: 
Neck pain and cervical injuries
An adjunct to physical therapy or rehabilitation
An option for motion-induced pain relief
Prevents postural disturbance & chronic bending injury.
Headaches and Pain caused by Neck discomfort.
2 black neck braces
Excellent product, closure easy and secure and brace wider, gives better neck support than others I've used! You will be my source for neck braces now!
Very supportive. Fit perfect
I bought it because I needed support under my chin to keep my head up. Snug fit and did what I needed it to do