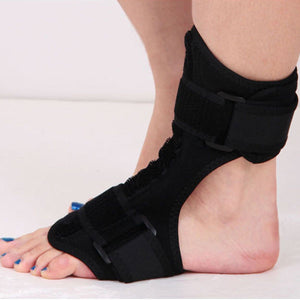 Plantar Fasciitis Dorsal Night Splint - AFO Orthotic Drop Foot Brace ~ Heel Pain Relief!
Comfortable and Effective Dorsal Night Splint
This dorsal night splint for Achilles tendonitis or plantar fasciitis holds the foot upright as one sleeps, providing a gentle stretch to the Achilles tendon and plantar fascia and keeping these tissues from contracting. 

This simple Achilles tendonitis night splint fits securely and comfortably, holding the foot at a 90-degree angle to the ankle (plantar flexed). This enables the dorsal night splint to treat conditions such as:
Plantar fasciitis
Achilles tendonitis
Drop foot
Plantar flexion contracture
Stroke patients
This dorsal plantar fasciitis and Achilles tendonitis splint has a number of features that make it a more comfortable and therefore effective solution for dealing with these conditions.


Simple design for a more comfortable fit
Soft night splint secures and stabilizes the foot and ankle
Low-profile night splint leaves much of the foot free
Foot splint for nighttime holds foot in an upright, plantar-flexed position
Our Splint is medically proven more effective than any other overnight treatment. The gentle stretch will relieve pain, prevent further damage.
The StabilityPro dorsal foot night splint is more comfortable and less bulky than boot style braces.
Provided a good nights sleep for me by keeping my ankle from folding backward.
Good quality. Fits well. I wish the bottom fasteners could be moved to the top so I wouldn't have to walk on them when I need to use the restroom. The Velcro is very strong and the bend is adjustable to fit. With it, I am able to sleep well without awaking with leg pain from having my ankle folded back.
This product worked well,was reasonably priced and arrived quickly.I had tried everything to cure my plantar fasciatis w/o lasting results. I found good pain relief w/in 3 days. The splint was easy to use. I slept throughout the night easily.My foot size is a women's 91/2. I ordered the medium size and would order the next size up for me if ordering again.I wish I had started using this splint earlier and will not wait if I am ever plagued by plantar facitisis again.
Plantar Fasciitis Dorsal Night Splint - AFO Orthotic Drop Foot Brace ~ Heel Pain Relief!