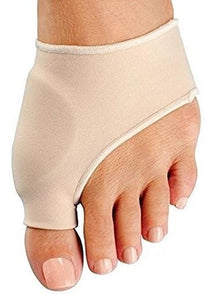 Bunion Gel Cushion Pads - Can Be Worn With Shoes ~ Pain Relief!
COMPLETE BUNION PAIN RELIEF: Helps with discomfort, pressure, and inflammation caused by bunions. Cushions and supports the bunion area so that you can take every step with renewed comfort.
Excellent Bunion Pads for Exercise. If you're active and need to fit a sleeve under sneakers but also want a sleeve with stronger support and correction, get this one. Effectively reduces pain. Stays in place, it doesn't slide around when you move.
ABSOLUTE PROTECTION: StabilityPro™ Natural gel protects skin while walking and exercising. Gel pad acts as a buffer to shield the sensitive bunion area to prevent painful rubbing from occurring. 
BUNION RELIEF THAT CAN BE WORN WITH SHOES: This bunion protector can be worn discreetly under shoes, socks, and stockings for undetectable protection. 
MADE OF QUALITY MATERIALS: Utilizes the best materials to produce a perfect product. Made of durable, medical grade materials to instantly reduce daily discomfort of bunion and hammertoe pain.
ENJOY BUNION RELIEF! - Get relief from painful and aching feet and toes resulting from tight-fitting shoes and otherwise. 
Awesome purchase
I definitely made the right decision when I purchased this item!!
Great product
i have felt good results wearing the product, glad they fit in my foot wear.
I recommend.
Yogi
Product allows me to wear my shoes with comfort.
Size is great
Fabric great delivery great