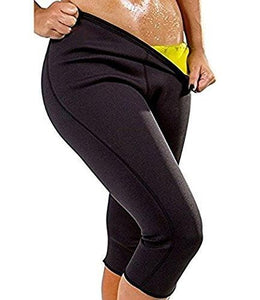 Sauna Weight loss Pants - Sweat & Burn More Fat!
 Finding it hard to GET RID OF BELLY FAT in the lower abdomen, thighs, hips and butt? The Neoprene Fat Burning Workout Capri Pants can help you target these areas during your workouts with their thermal action. 
PROVIDES INSTANT COMPRESSION to Thighs, Belly and Butt and provides lumbar support. Increases thermal activity, Mobilizes fat cells, Stimulates perspiration. 
EFFECTIVE RESULTS: Aims to maximize effectiveness of workouts while increasing fat burning. Our Thermo Pants help tone and slim problem areas, such as hips, thighs, and buttocks. It also increases the core body temperature to raise metabolism to burn fat faster.
DESIGNED FOR HIGH PERFORMANCE and comfort, perfect combination of fashion and function. High waist band to enhance sweating of abs helps to reduce the abdomen, waist and thigh size. Our trendy design will go perfectly with any of your favorite tops!
STICK TO THE PLAN AND GET MOTIVATED WITH ONE SIMPLE GARMENT THAT CAN MAKE YOU SWEAT UP TO 3 MORE TIMES THAN NORMAL!

- Get a jumpstart on your weight loss program
- Get the motivation you need
- Feel good after each workout
- Get rid of excess water weight fast
- Get rid of skin toxins and prep your body for fat loss
- Increase your metabolic rate
I'm glad I purchased these. I wanted something I could wear that covered hips, butt, and thighs when I worked out. They are perfect. 
-Carol Wiliams
Amazing! I Absolutely love it, I wish i got 2 of each size for all the weight I'm losing!
-JoAnne Rettammel
Happy Buyer! Product was perfect!
-Bonnie Lynn Finkbone
Sweatin' & Burnin' ! Yeah...it made me sweat...thats for certain!
-Chantney Panker
Sweat
Love them. They are soooooo comfortable.
The stability weight loss pants works well. Thank you.
Great Product!
I bought this product for a close friend of mine and have not heard any complaints about its delivery or quality.
Great!!!!!!
Great product .just what i needed to push my weight loss to the next level
That is a great neoprene pant!!!