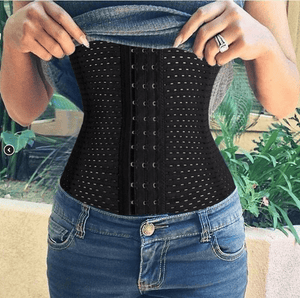 Waist Training Corset - Body Shaper For Women!
Get this fabulous and comfortable waist trainer for daily use.
Some of the Benefits of This Waist Shaper
Trims & Tones- The abdomen is one of the hardest parts of the body to trim and tone. Waist training corsets are designed specifically to shape your tummy and defining your waistline for a sleek, curvy silhouette. Besides trimming your waist, this body shaping trainer will also give you a trim line from your hip to your chest.
Fits under most clothing: You can wear virtually any clothing over it without any discomfort and no one will know you're wearing it.

Firm but also flexible: The Waist Shaper is made using superior steel bone construction. The 4 steel bones are just as soft as plastic bones but have much better flexibility and recover instantly. This allows for the shaper to be firm enough to take inches off your waist but flexible enough that it won't impact your day to day activities.

Stretchy and durable: With natural Cotton and a blend of Polyester and Spandex, your new Waist Shaper is built to last.
Love it
I got a medium wore it for months I notice everything was going in and I had it at the third hook so I had to adjust so I order a small.And the good about it is breathable.
Comfortable
I like that this product is comfortable enough to wear all day.
Waist Training Corset - Body Shaper For Women review
It's fantastic! I love how comfortable it is! I'm a small person so I got a small not know if it was going to be too big but since there are 3 levels of tightness the second is perfect during these first few weeks with it!
Am very happy with these I highly recommend this to anyone who wants to wear them
Happy with my purchase..will definitely order again!