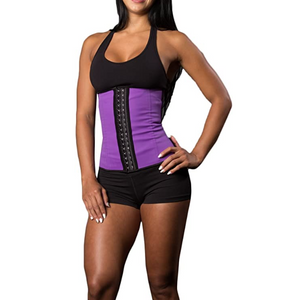 Premium Waist Trainer 💖
Kim's Favorite Waist Trainer!
The gym Waist Trainer by StabilityPro tightens, tones and flattens your stomach. Ideal for working out, and shorter torsos. It creates compression in your core to stimulate thermal activity, burning more calories.   Comfortable fabric and design makes it easy to wear, anytime! 😊
FEATURES
Flex-Boning Support Technology
Cotton lined interior
3 rows of hook closures
Perfect for exercising and shorter torsos
Lose inches instantly, and more over time
Stimulate Perspiration for FAST fat burning
Promotes Good Posture, helping you look your BEST💖
ALL OF OUR WAIST TRAINERS ARE AUTHENTIC IMPORTED 
Great quality product! Ordered this waist trainer for my workouts at the gym. Very easy to wear and fits snug on your waistline. I also like wearing it under everyday garments to accent the waistline. It has 3 hook selections for your comfort! Very pleased with this purchase. Will order from this company again.
 -Catherine Appner
Its perfect! I love this waist trainer.
-Yulissa Angeles
Great Waist Trainer! I love it .
Super
Very happy with my purchase