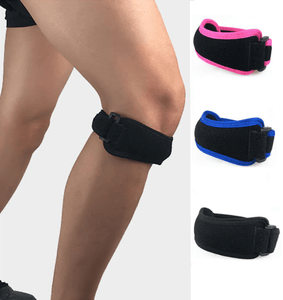 Patella Knee Strap Brace Patellar Tendon Meniscus Stabilizer Band KT
AMAZING SUPPORT- This adjustable patella strap offers the ideal support for your knee and patellar tendon during walking, exercising and other sports activities. You will be able to run, exercise and do so much more without feeling any knee pain.
HIGH-QUALITY DESIGN - Designed with high-quality professional sports cloth which flexes with ease yet still maintains form. The StabilityPro patella support brace has a built in Silicone & Foam which wraps & stabilizes the patella, dispersing pressure and enhancing the knee's stability.
The Silicone/Foam Pads are incorporated into the strap to stimulate the patellar tendon and provide targeted compression
FULLY ADJUSTABLE & COMFORTABLE- The StabilityPro patella support brace is fully adjustable with a double adjustment buckle design, providing a comfortable fit for almost every athlete. It's innovative design allows for unrestricted movement, so you feel free and comfortable all the time while wearing it.
KNEE PAIN RELIEF- The knee band supports both your knee and patellar tendon during athletic activity. It can relieve pain associated with various knee problems and also prevent any further damage to the knee and patellar tendon while active.
Powerful Velcro straps ensure a close fit without movement during activity. The fabric is soft, breathable and easy to wash for a comfortable fit.
Great knee support
I am so glad I found this knee brace and it gives me the support I need when walking or exercising. It fits perfect and feels comfortable. Thank you!
Knees
Knee Stabilizer bands are great
Thank you for sending the Stabilizer Band KT so promptly. I will be using it at my next knee flair-up.