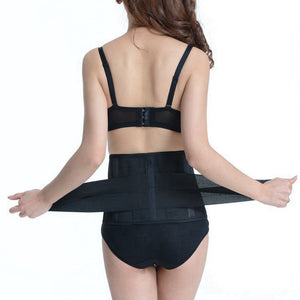 Lumbar Back Brace - w/ Dual Sided Adjustable Compression Straps
See size chart! 
SUPPORTS THE LOWER SPINE to provide stability for those suffering from lower back pain. Back crossover heavy duty elasticized double-pull mechanism provides effective, easily adjustable compression.
UNIQUE fabric across the back panel provides added level of lower back support. Our Brace keeps the lower back in an upright position and reduces the strain on muscles, ligaments, discs and nerve roots of the lower back.
OUR POPULAR StabilityPro Back Brace provides a maximum level of support. It features a thermal 100% Latex-free Neoprene (CR) back panel with 4 resilient steel columns, cool, breathable side panels, and firm elastic side pulls that provide adjustable compression and support. 
HIGH QUALITY lumbar brace with a double-pull strap that offers maximum support to ensure maximum comfort, mobility, and efficiency in the relief of even the most persistent lower back body pain. 
Features & Benefits:
• The StabilityPro Lumbar Brace helps to facilitate good posture by preventing a slouched position in the lower back.
• By keeping the lower back in an upright or stable position, reduces the strain placed on the pain producing structures of the lower back such as muscles, ligaments, discs and nerve roots.
• The adjustable Compression straps and Lumbar Brace can help improve posture to aid in the treatment of back problems such as slipped discs, degenerative disc disease, and sciatica.
I love this ❤️item
I have to say I am very pleased with this one it has helped me with my posture and I would recommend it to anyone who has ever had back problems
Great Support!
I have lower back pain from scoliosis and stenosis. I also paint furniture for a living, garden and go to the gym. This brace has saved my active life. I'm so glad I purchased them!
5/5
Very good product, really helps my back.
Good construction, great price
This a comfortable and durable product and you can't beat the price. It is lightweight, no scratchy Velcro edges, can be worn for extended work periods.