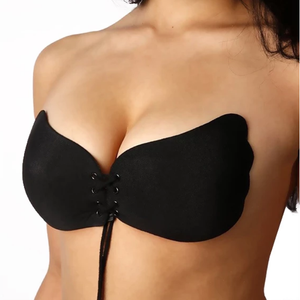 Backless, Strapless, Push-up Bra - Great for cleavage enhancement!
The Cleavage Strapless Bra supports and enhances your cleavage and Instantly adds 2 Cups to your bust line. This is the perfect bra for strapless, backless, low cut, halter, crisscross and other revealing styles.
Give your bust a boost with our Strapless Push-Up Bra. These silicone cups do more than hold your girls in place; they're specially shaped to give your bust that lifted, rounded look. Whether you are small or full-chested, the adjustable laces allow you to create your perfect level of cleavage.
✔ LIGHTWEIGHT NATURAL FEEL: Made of an Ultra-Lite fabric and Medical Grade adhesive gel, you won't even know you're wearing them. Soft to the touch, invisible to the eye.
✔ STAYS PUT & IN PLACE:  From the dance floor to the after-party, this bra has you covered wherever you go. When you're done, they're easily removed with no sticky residue left behind. Strong sticky & skin-friendly FDA approved silicone will ensure it always stays put!
✔ SEAMLESS & INVISIBLE: Designed in the shape of wings, our bra is seamless and totally invisible under sheer clothing.  
✔ HYPOALLERGENIC: Laboratory tested. Suitable for sensitive skin. Leaves no redness or residue on the skin when removed. 
Flaunt what you've got and increased your cleavage with our Perfect Sculpt Bra! Designed to give you full support and maximum comfort, our push up bra promises to provide you with that lift you've always desired. Why not get that extra boost?