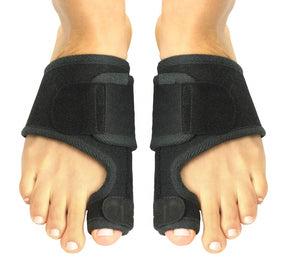 Bunion Splint Wrap - Corrector Brace ~ Big Toe Straightener
BUNION CORRECTOR: StabilityPro's Bunion Splint helps Big Toe alignment, relieve pain for Hallux Valgus & Tailor's Bunion. It can be used and worn anywhere at home, as well as aid bunion correcting at night. Great for relieving pain after bunion surgery.
INSTANT PAIN RELIEF - Correct bunions in a gentle and comfortable way using the revolutionary Orthopedic Bunion Corrector. Simply wear it at night for immediate relief after a tough day. It will effectively ease pain and pressure on your tired feet. 
Fully adjustable to fit everyone - The bunion splint comfortably fits most individuals without slipping or bunching. You can adjust the tightness as you need.
NIGHTTIME RELIEF: StabilityPro's Bunion Brace is great for bedtime. The embedded aluminum bar provides needed support while you are sleeping. Effectively alleviate the pain!
DAILY WEAR AFTER SURGERY: StabilityPro's Bunion Splint is designed with two layers which are softer and more comfortable than others. It is Soft and Lightweight but also provides great effective Support for the joint. 
Made with soft, thin and light medical grade PE material to save you from blisters, rubbing, and increasing tenderness.
You feel more comfortable, as it soothes and releases tension and bunion pain near the joint.
Stabilizing support to be worn at night.
Anatomically adjust curved metatarsal and toe straps provide comfort and fit.
Adjustable strapping system aligns big toe.
Dual strapping system stabilizes the mid-foot arch.
Padded hinged splint protects irritated tissue and absorbs pressure.
Adjustable metatarsal pad relieves pain of toe joints, optimizing pressure distribution.
One size fits most, left or right foot.
Really makes a difference
Comfortable even to sleep in. Noticing a small straightening movement. Will continue wearing to see if I can get more improvement
Bunion Splint Wrap
Less pain within a day Time will tell if the toe will straighten
Corrector brace
She noticed immediate results. Thank you
Stellar Product
My bunion splint has already decreased my bunion on my left foot dramatically.
Bunion relief
I had bunion surgery on my left foot about ten years ago. It has been sore off and on ever since. In fact worse than before the surgery. I decided to buy this Bunion Splint and have been wearing it every night since receiving it a few weeks ago. I have not had a sore foot since. I am amazed that something so inexpensive could do so much good. Thank you so, so much. Robby B.