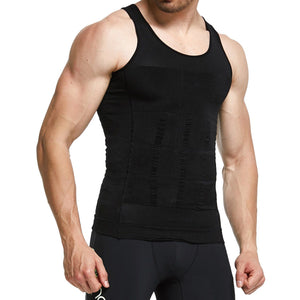 Men's Belly Shaper ~ Great For Work Attire!
Sizes: Small, Medium, Large, XL, XXL
Size Chart
Small: Chest 35" - 38"
Medium: Chest 38" - 41"
Large: Chest 42" - 45"
XLarge: Chest 46" - 50"
XXLarge: Chest 51" - 55"
Effectively hides bulges, bumps and rolls, allowing you to look thin and trim
Makes you look inches smaller and thinner instantly
Helps to protect the spine from back aches and muscular fatigue
Firming panels comfortably trim and tighten your abdomen, chest and back for a lean appearance
Smooth body lines and core support, reinforce the lower back
Comfortable, unlike other similar products on the market or girdles. You'll feel comfortable and confident wearing it
Looks like a normal singlet under clothes
Material: 80% Nylon and 20% Spandex
I have problems with my back from time to time that causes problems performing my job. I saw these and thought they might help hold everything in place even though I'm not overweight. They helped my posture. Helped my abdomen and back be more stable and don't look silly with a wrap around brace. Much less back problems, at least for me.
This shaper is really excellent
Excellent
I like very much this product