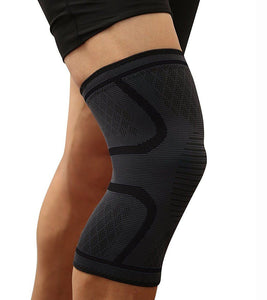 Knee Brace - Compression Support Sleeve ~ Lift and Rise!
PHENOMENAL PROTECTION -    The 

StabilityPro

™ Knee brace applies stable pressure across your knee joint, which provides ultimate pain relief from a variety of ailments including arthritis, swelling, tendonitis, meniscus tear, soreness, stiffness, ACL, PCL, MCL, and other knee pain.
CONFIDENCE IN YOUR KNEES - The StabilityPro™ knee compression sleeve is scientifically engineered for optimal knee function . Manufactured for unbeatable support and reduction of knee pain & inflammation. 
IMPROVE ATHLETIC PERFORMANCE -    All physical activity puts your knees under stress . The StabilityPro™ compression knee sleeve offers support , and increases blood & oxygen flow, enhancing performance and recovery. 
PREMIUM QUALITY: Our Knee sleeve are manufactured to provide superior support, comfort, and relief without compromising your mobility. Tight, form fitting, and breathable compression fabric maintains joint stability regardless of activity, helps improve blood circulation and eases pain. Quick at absorbing sweat and keeps your leg dry and odor free.
ANTI SLIP SILICONE PREVENTS SLEEVE FROM SLIDING AROUND
TESTIMONIALS
I have been searching for two things: A brace big enough to go on my leg and a brace that would stay in place. This brace does both well. Thank you!
-Rick Flickinger

I have tried several different knee braces and supports, all of which disappointed me. I bought your product with a lot of skepticism but figured I had very little to lose. I am amazed! This is the first knee brace that actually supports my knee! I am able to stand for hours with no pain! Let me repeat that - NO PAIN! I have been telling everybody me I know who suffers from knee pain to try your product. Thank you!!!!!
-Judith Flynn
My daughter has a lot of trouble with her patella sliding around and snapping back into place. She absolutely loves this new brace/sleeve! It helped her make it through a very active show choir audition! Thank you!
-Kim Langley
Stabilizer provides excellent support to left knee that was replaced 20 months ago. I have returned to walking my Bulldogs and bowling without fear of knee giving out. The added support has decreased my anxiety. I also occasionally wear it at work because of the amount of time spent on my feet.
-Barbara Ross
Perfect knee brace
Provides the right amount of stability and is still very breathable.
Knee Brace
I really love the support it gives me knee.
Great support!
This sleeve was exactly what I needed. My Baker's Cyst would swell and ache daily due to my daily routines of work and exercise, none of which were excessive. I was wearing an elastic bandage for compression which was only a minor help. I had to ice my knee nightly. Since wearing this sleeve I haven't had swelling and haven't need to ice my knee.
This sleeve is not overly snug, just the right compression needed for my problem.
Grandson wears when he wrestles, Works great!