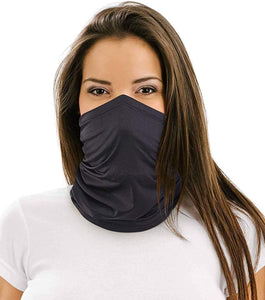 Women's Face Cover Neck Gaiter - Seamless ~Breathable Fabric!
We use PREMIUM HI-TECH MICROFIBERS to produce High-Quality Outdoor Sports Masks which Provide Premium Performance for Breathability, Wicking, Durability and Abrasion Resistance.
MADE WITH high-quality breathable microfiber, the super lightweight material allows for a natural/unmasked feeling. Stretchy, rebound and snug allowing it to fit to the contours of your face really well, keeping the harsh weather, sun and wind off your neck and face. 
PRACTICAL - Can be be worn around your neck while not in use, or can be worn around your wrist until needed.
Will 

not

tug on your ears like other masks. Stays up easily with no need to readjust every few seconds.
Your glasses will

not

fog up since it is breathable. You wont even notice it's on. It will not hinder your breathing.
MULTI FUNCTION: Our Mask Can be Worn as Half-face mask, Helmet-liner, Neck gaiter, Scarf, wristband, Beanie, dust screen or hair band
BENEFITS: Quick Dry, Ultra Light, Breathable, Soft, Wrinkle Free, Sweat-absorbent, Stretchy, Dustproof, Wind Resistant, Anti-UV, One size fits all.
SUITABLE for Motorcycling, ATV, Cycling, Skiing, Snowboarding, Hiking, Skydiving, Running, Hunting, Camping, Fishing, Paintball, Tactical Training, Airsoft and Working Outside
✔ FULLY SEAMLESS: No irritating seams for all-day comfort. Folds down for extra warmth.
✔ BREATHABLE: Lightweight, Wind Resistant, and Double-sided.
✔ 100% MICROFIBER: Keeps you warm and stays breathable
✔ PERFECT FOR OUTDOORS: Skiing, snowboarding, hiking, motorcycle and snowmobile riding, mountain biking, Tactical Training, Paintball, Airsoft and anything outdoors.