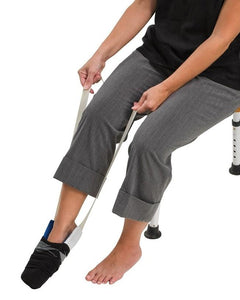 Deluxe Sock & Stocking Puller Assistant Aid - Easy Up Compression Helper Tool
Are you having problems putting on your compression socks in the morning?
Bending down to reach your feet seem impossible sometimes?
A sock puller is the answer.
Made with smooth terrycloth and elastic pullers, this "compression sock horn' is designed to help you get your foot into the foot sleeve(the hardest part), so all you have left is to pull your socks up to your desired height.
The StabilityPro Socks Put On Assist Device: Helps individuals put on socks or stockings easily and independently. Ideal sock slider for those having difficulty to bend down, recovering from back, knee or hip replacement surgery or for those with limited mobility.

Allows you to put on socks or hosiery independently with 4 easy steps.  It is an ideal sock or stocking puller tool for those who have difficulty to bend over, have limited mobility.
Perfect for people with limited mobility due to arthritis, hip, knee or back injuries.
The two 29" long loop handles on this deluxe stocking and sock aid reduce the need to bend.

Flexible plastic core has a unique three finger design that holds stockings easily with nylon interior to reduce friction.

Terrycloth exterior prevents sock from slipping.
Have now purchased four
This device works quickly and easily. Purchsed one for hip surgery patient, one for each if two back surgery patients, one for 96-year-old whose "toenails catch" when he struggles into his socks. Will likely purchase again in future.
It works
Found it easy to load and pulls all the up.
it is the best thing since sliced bread
it was very ease to use !! just slipped the socks on the form and pulled them up.
the old sock aid i had rope-like cords, so i needed to be careful i did not pull too hard i would get rope burns on my hands !! :X
Relieved in Batesville
We love our sock pullers. I have not worn socks in a couple of years because I could not bend down to get them on. I have spinal stenosis and I cannot bend very good. I can now wear socks every day if I want. My husband helped me when I just had to have socks on.