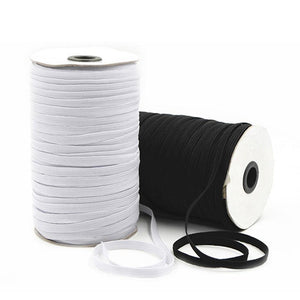 DIY Braided Elastic Sewing Band Cord 100 Yards 3mm - 6mm Wide
Our 100 Yard DYI Sewing Elastic Braided Band is made of premium polyester material, which is skin friendly, has strong elasticity and is extremely durable.  This elastic band has a wide application and can be used for masks, home decoration or belts, laces, hair bands, necklines, shorts, skirts, sleeves, tights, headbands, laces, wigs, diaries, hats, bags, and DIY jewelry.  The band comes packaged around a spool and is easy to cut to whatever length you want. 
Are you having difficulty finding masks to buy or are they too expensive? With these elastic cords you can make hundreds of masks at a fraction of the cost.  This is the best eslatic cord material available to make your own DIY mask. 
Quality Material: Non-toxic , skin friendly polyester and natural latex rubber

Excellent Elasticity: The elastic band is high quality, durable, soft and made to stretch

Color and Size : Both white and black elastic rope 3mm-6mm ( 1/8 in - 1/4 in) Width, 100 Yards Length.