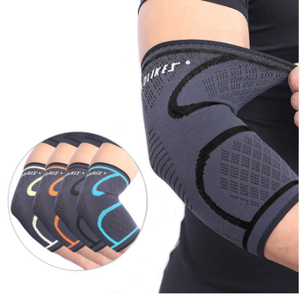 Elbow Brace - Compression Support Sleeve ~ Pain Relief!
INSTANT SUPPORT AND RELIEF - You will feel the difference immediately. Get fast pain relief with less stiffness and discomfort. Our Power Support technology improves circulation and provides secure support and protection in all the right places so you can push through your activity, recover faster, and prevent injury. 
Order 2 for a Pair!!!
LIGHTWEIGHT AND BREATHABLE - Some elbow braces are too hot, too restrictive or too bulky. Our Premium Flex design provides a comfortable, ergonomic fit without cutting off circulation to your hands and fingers. Moisture wicking, breathable fabric, so you can even wear them with confidence underneath your clothes. 
FEEL CONFIDENT AGAIN - With unmatched support and durability, our elbow compression sleeves will get you through any activity - we guarantee it. Top quality double stitching and long lasting construction that won't lose compression over time. 
INCREDIBLE PERFORMANCE RESULTS - Designed and proven to benefit men and women who need comfortable elbow support for lasting pain relief. Break through and reach your goals with vascular support to reduce fatigue, swelling, and injuries. 
- Feel The Difference Immediately! - 
Crucial Compression Elbow Sleeves provide you with comfortable support, where you need it most. Ultra soft, breathable and flexible. You may even forget you're wearing them - but your elbows won't.

- Don't Let Elbow Pain Stop You From Being Active - 
Take advantage of modern sport technology. Now you can perform better with the same compression technology worn by professional athletes and weightlifters.

Painful, stiff, injured elbows need extra love. Utilize compression help to speed up your recovery.
Amazing relief
This elbow brace supplied me so much relief as soon as I put it on. I am very satisfied with this product. I am impressed with how well it works to ease my pain.
Great for work!
They have helped out so much me carrying packages and not scraping my forearms. I work for FEDEX and I purchased these right in time for our busy months!
Perfect
Just what I needed for my arthritis and tendonitis
exactly what i wanted at a very good price.
Elbow Brace
Fits great, works well, wear to bed comfortable