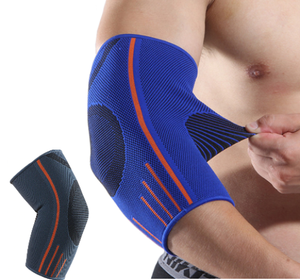 Elbow Compression Sleeve - Tendonitis and Arthritis Support
PHENOMENAL PROTECTION: Our elbow brace applies even pressure across your elbow joint, which provides relief from a variety of ailments including tendonitis, joint inflammation, tennis elbow, golf elbow, and other elbow pain. With our sleeves you'll be able to tackle any activity life throws your way!
INCREDIBLE CONSTRUCTION: Our elbow sleeves are manufactured to provide superior support, comfort, and relief without compromising your mobility. Tight, form fitting and breathable compression fabric maintains joint stability regardless of activity while avoiding the itchiness common to neoprene supports
TRUE FIT (NO SLIP): Whether you've got meaty arms, or are a little bit slender, we've got a fit for you! It's really the most important thing, isn't it? Having a fit that doesn't slide down your arm, but also doesn't give you the dreaded "muffin" is something that should be a given, but with other brands!
THE SUPPORT YOU EXPECT, AND THE COMFORT YOU DESERVE: StabilityPro has taken the time to develop a specialized fabric blend with 4 way stretch capability, offering all around superior protection and support above and beyond what you've experienced before!
PAIN RELIEF: Through compression, we offer support that is all day strong, and provides excellent relief from arthritis and other joint pain.
Features of our Elbow Sleeve:​
Compression material provides relief from arthritis, inflammation, golf elbow, joint pain, tendonitis and other elbow aches
Four-way stretch material provides unparalleled mobility
Superior material and construction means our elbow sleeve is built to last
Material is well ventilated to regulate your arm temperature
I tried several other ones before I found this one. The others pinched or rolled. This one doesn't. It fits well and after wearing it only a few weeks my elbow is feeling tremendously better.
Bursitis
Pretty good compression sleeve. reminds me not to put my elbow on the table.
Brace very light
Very happy with merchandise