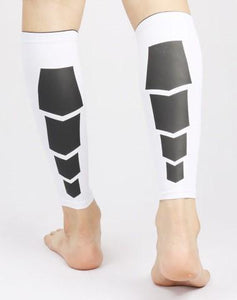 Calf Compression Shin Splint Sleeves - Reduce Swelling & Increase Blood Flow!
You will receive a Pair! 
PAIN RELIEF NOW! -

If you've ever dealt with Shin Splints, you know the discomfort and outright pain they can bring. Feel more confident to stay on your feet and avoid that unwanted pain as well as muscle cramps while you travel, work, or play! No matter if you're a runner, nurse, are pregnant, or just experience occasional leg pain, our sleeve is just what you need!
QUALITY AND COMFORT: Made with Anti-Itch moisture wicking capabilities material that also Eliminates odors. The graduated compression calf sleeve minimizes injury & pain, while offering optimal muscle support.
COMPRESSION THERAPY TECHNOLOGY - Provides true graduated compression to promote blood circulation and oxygen flow. Prevents injuries such as cramping, fatigue, soreness and swelling. Perfect for muscle recovery, spider, varicose veins and diabetics.
GET INSTANT RELIEF - Do you suffer from shin splints, calf pain or swelling in your feet? Do you travel a lot or are on your feet all day? If yes you'll love our compression sleeves. These shin splint compression sleeves aid in mitigating shin splints, preventing calf cramps, protects legs from minor scratches & knocks. 
DESIGNED FOR EVERYDAY USE - Bring more energy into your feet. Designed for extra support of the posterior & anterior calf muscles & achilles tendon. Pin-point compression provides targeted support where it is needed the most. 
Performed
product performed as expected. The key of course is obtaining the correct size based on the scale given by the merchandiser. The size I ordered has just the right amount of compression. very pleased with product and the price.
Love these calf compression sleeves! Great for long shifts on my feet. Sizing I would reccomend going up one size.
Runners Usage
Helps with my calf cramps.
Calves
Great product highly recommended