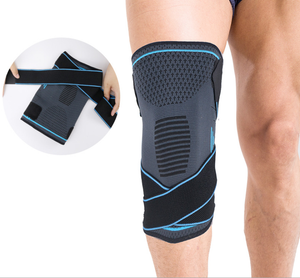 Knee Brace - Compression Sleeve ~ Meniscus Patella Support!
CONFIDENCE & IMPROVED MOBILITY - Feel the comfort of all day wear with the 4-way strap design, literally 'cocoon's your knee from every angle it feels like wearing a glove so your knee is wrapped in support & the flexible compression straps give support to the medial & lateral ligaments helping to stabilize your knee, great for weak knees that give way.

A TRUE NON-SLIP KNEE BRACE

 

- Other knee supports are flimsy, slip down & become annoying having to re-adjust every 3 minutes. The

 

StabilityPro™ Knee brace has a unique 4-way strap system creating a super comfortable NON-SLIP support on all angles of your knee. This anchors the knee brace above & below the patella tendon which helps relieve jumpers knee & patella tendonitis.
REINFORCED COMPRESSION

 

ensures the knee cap remains in its proper position, and distributes stress across the ACL, PCL, LCL, and MCL ligaments, lowering the risk of re-injury by guiding the knee cap into proper motion.
4 WAY SUPPORT DESIGN

 

relieves pressure and reduces stress on the knee-joint during intense exercise and heavy usage; effectively relieves acute & chronic knee pain from arthritis, strains, sprains, and fatigue; ideal for post-surgery recovery or preventing sports injuries
DESIGNED FOR EVERYDAY USE AND ACTIVITIES

 

- A must have for men and women. Our knee sleeves are extremely comfortable and can be worn everyday to help you recover faster, reduce pain, soreness, cramping, fatigue and get the support you need! 
REINFORCED PATELLA STABILIZER
Holds the patella in proper position and stabilizes your ACL, PCL, LCL, and MCL ligaments. The knee support exerts a beneficial massaging action with gentle compression during movement, thus improving the sensory motor function of the entire joint. Its heating effect improves circulations and promotes muscular recovery. Great for healing, recovery and rehab.
Pain Relief & Promotes Muscle/Joint Recovery: 
Compression is proven to Promote muscle recovery and injury prevention, our knee sleeve relieves muscle stiffness, extra soreness and offers rejuvenating relief from arthritis, osteoporosis, tendonitis, pain & discomfort, allowing you to perform at your peak in all situations.
Knee support
Just what was needed, really good product.
My husband loves the knee brace compression sleeve I bought him
Knee brace
Fits under your pant legs,I love these much better than any thing from the store
Great brace!
Fits very well and provides the support needed for an injured knee.
Great fit
Great fit and helps my daughter's knee.