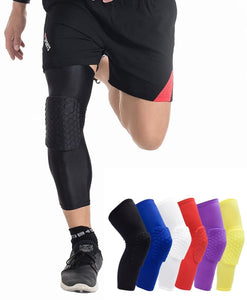 Padded Compression Knee Sleeves - Basketball & Wrestling HexPads!
ADVANCED TECHNOLOGY: Pad pods beautifully conform to your knee during bending and moving to give you ultimate flexibility and protection. We achieve this through individually casing each pod and NOT one big pad with cut grooves that just fake the look
DUAL-LAYER WICKING: Keep warm, stay dry with the most advanced material available. The best feeling compression sleeve you'll ever touch with all double-seam hemming throughout
NON-SLIP INNER SILICONE STRIP: No worries if the sleeve will stay in place. A hidden, soft silicone strip hides inside at the top that prevents the knee pad from slipping down when moving or getting sweaty
PHENOMENAL PROTECTION: StabilityPro knee braces apply even pressure across your knee joint, which provides superb relief from a variety of ailments including tendonitis, joint inflammation, Meniscus Tears, ACL, MCL, Arthritis, and Tendonitis.
Order 2 to make it a Pair!
INSTANT SUPPORT AND RELIEF— You will feel the difference immediately. Get fast pain relief with less stiffness, soreness, and discomfort. Our Power Support technology improves blood circulation and heats your muscles, getting more oxygen and less lactic acid build up so you can perform better, recover faster, and prevent injury.
Great knee support for yoga! This is a non bulky sleeve with great knee protection.
-Mary Cerullo
Man it feels so great on my leg and looks good also.
-Daishaun Hardnett 
Great knee pad brace, my son loves it, perfect for face offs!
-Melissa
5/5 Stars! Loves them, great product, fit was perfect
-Vonda Bailey
Leg sleeve
Sick leg sleeve. Won every match since he got it.
Padded compression knee pads
My daughter plays basketball very seriously and hard!! These are the best knee pads she's had!! She loves them!! We bought 3 pair in 3 colors! Great color options!!
Nice legging
Knee reinforced grandson likes it a lot. Good quality
Great Knee Protection
My grand son needed support and protection for his knees during Basketball. Stability Pro has the best compression and padding of any other brand that we tried.
Does its job and looks super sweet out there on the wrestling mats.