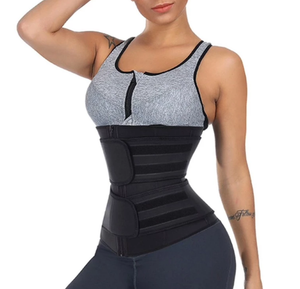 Waist Trainer - Double Compression Straps with Supportive Zipper!
This StabilityPro Women's Waist Trainer & Ab Support Belt is the ultimate garment for women looking to tone, trim and shape their waistline and achieve that sexy hourglass figure. This Women's Waist Trainer Body Shaper is made of the HIGHEST QUALITY materials available for waist training. We believe that your body deserves the best materials to get the job done. Sweat the fat off with this waist trainer & body shaper for women. Women's shapewear for waist training has never looked so fashionable & durable.
Experience the difference with the support and coverage of a classic waist trainer with the flexibility, adjustability, and comfort of a sweatband. The Lux Double Abdominal Belt can be worn during high-intensity workouts, cardio, and abdominal exercises.  It features a zip-up fastener and two adjustable elastic velcro straps for different levels of compression. The double belts ensure maximum compression along the full abdominal and further prevents rolling, creating a smooth shape.
STIMULATE FAT BURNING & WEIGHT LOSS:  Increases thermal activity and stimulates sweating, accelerating the belly fat burning process to shape & reduce the waist and abdomen. 
DOUBLE COMPRESSION WAIST TRAINING: Equipped with adjustable velcro straps that offer your preferred level of compression and more precise sizing as inches and weight are shed. The inner layers increase body temperature, resulting in more sweat, while the outer layer is extremely absorbent. Sweat on the inside while staying dry on the outside!
BACK SUPPORT & INJURY PREVENTION: Acts like a compression belly binder around the waist to offer back support and create the best posture, offering the correct alignment for weight lifting and other strenuous exercise that could result in injury from improper posture. 
FEATURES
Visibly reduced waistline of 1-4 inches
Firmed and flattened midsection
Ideal to use at work, home and gym
Post-pregnancy restoration
Dual Closure Zipper and Velcro for best fit
It doesn't fit, it's too small. I requested to return it for a refund or a bigger size and I have not got a reply back. It's been 2 weeks now.
great shape wear!
very comfortable wear, fit like a glove. lost it somewhere in my room 2 days ago and now i'm crying lol. but best purchase so far!
It's awesome and it fits perfectly I love it 100% recommend.