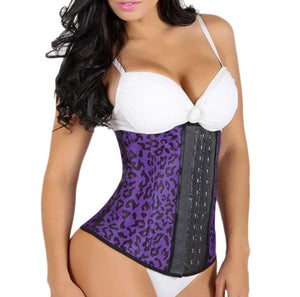 Leopard Waist Trainer ~ Deluxe Animal Print Cincher 💖
Designed with lasting results in mind, these long-torso trainers comfortably take you from the gym, work, and beyond. You'll instantly create a sexy hourglass shape every time you wear it. Then, get permanent inches off your waist over time. The waist training trend is a lifestyle choice that gets both celebrities and regular women purring.
The leopard trainer comes with 3 hook-and-eye rows, so you can customize your fit as your waist gets smaller. Flex Boning rods add structure to the squeeze, but they're extremely flexible to allow for comfortable movement. They're dual-layered with a latex exterior and breathable cotton lining, so you get maximum waist training and all-day comfort.
The StabilityPro Difference:
3 Hook-and-eye rows, so you can adjust as your waist gets smaller
Increases core thermal activity, promotes sweat, and improves posture to give you an edge over weight loss
Latex exterior for premium constriction, and a soft cotton lining for all-day comfort
It's never been easier to achieve the curvy figure of your dreams. Achieve lasting results over time by wearing it 6-8 hours a day for 4 weeks. You'll lose up to 4-inches off your waist! Our quality trainers are built to stay strong for daily use as the inches disappear.
Waist trainer I'm happy with it
Thank you for prompt service and it actually being what I wanted.