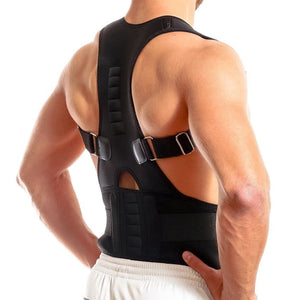 Back Brace for Posture Support ~ Scoliosis Corrector Thoracic Pain Relief
See size chart! Choose larger size!

IMPROVE POSTURE - Our posture brace works by training your muscles and spine to return to their natural alignment, reducing back pain caused by bad posture. Just 2 hours everyday, can make your posture straight & upright while improving your self-confidence.
REDUCE BACK PAIN - Bad posture, left unchecked, can cause pain, lethargy, and even lead to nerve damage. Our back brace, coupled with physical therapy, aids in the treatment of Back Pain, Scoliosis, Spondylolisthesis, and Thoracic Outlet Syndrome.
• Our Back Pain Support Brace has 10 carefully incorporated magnets that are proven to help relieve pain and prevent such syndromes.
STRONG YET COMFORTABLE - Our durable and comfortable design allows for effective assistance while still being comfortable to wear. The cushioned straps pull your shoulders back while our waist band supports the middle and lower back.
IMPORTANCE OF GOOD POSTURE - The importance of correct posture cannot be overstated. Always remembering to stand tall and straight, having your shoulders back and down, with your chin tucked will improve your health and confidence! 
• Physical Activities: It helps you to perform your exercises correctly and ensures to strengthen your muscles the right way.
• Posture is so important for both our health and overall well being, yet it seems to have taken a backseat in today's society. Laptops, cell phones, and sitting down all day have had an adverse effect on our posture, and we're all looking for ways to fix this. We want to stand up straight and look good as well!
Testimonials
I have spent over 6000 dollars this year with doctors... to get no relief... Put on this brace and my pain is gone........ THANK YOU!!!!! THANK YOU!!!! I LOVE IT!!!!!!
-Dwayne Case
I have a renewed outlook on my life since I started using the StabilityPro back brace.
-Drenda Thompson 
Thank you so much stability pro for this new back brace. Reminding myself to sit up straight has been a struggle but with this brace it IS possible to have constant correct posture I never thought I could achieve!
-Breanna Mini 
Relief!
After two back surgeries, I find it difficult to stand erect, and by the end of the day, my back pain is severe. This back support and brace is a comfortable and positive reminder reminder to stand tall. At the end of the day, I'm pain free.
Relieved back pain and improved posture
I have noticed my posture getting increasingly worse and have lower back pain. The brace has helped significantly to ease the pain and to stand up straight. My mother had scoliosis and always wore an uncomfortable clunky back brace. This brace is comfortable and not noticable under a loose fitting top.
Big Relief
The brace definitely helps my posture as well as my lower back. I can do my daily exercises without lower back pain.
Can Not beat the price for good quality merchandise~Thank You!
Honest Review! I am very pleased with my new back brace due to thoracic back pain as well as shoulder impingement. Light weight and comfortable. This brace reminds me to keep my shoulders back. Delivery of the back brace, knee brace, foot brace and toe separator was one day shy of a week. Chronic pain on my entire right side has been reduced significantly after only one week~Thank You Stability Pro for your affordable prices :-)
Back Brace
It really works better than some of the others I've tried. My back doesn't get as tired and it really stays in place a lot better.