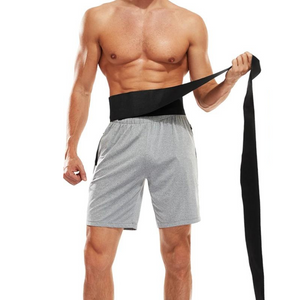 Men's Abdominal Binder Lower Waist Support Belt - Compression Band
 Invisible Wrap Waist Trainer Tape - Shapewear can flatten your abdomen, reduce waistline, support your back, improve posture, relieve low back pain, protect your spine, accelerate fat burning during exercise, enhance your exercise and show your curve by helping to improve thermal activity and sweat!
Soft & Comfortable - The Invisible Wrap Waist Trainer Tape is super easy to put on yourself and comfortable to wear all day. The inside of this abdominal binder is ultra-soft, comfortable, has no smells, and isn't itchy. No worries to wear it directly under your clothes.

Adjustable Comfortable Back Brace - Cinches your waist 5-7 inches away in a blink. enough to cover the waist and abdomen, simple design, free size to close the waist, you can freely adjust the tightness, whether it is worn inside or outside, it is very fashionable.
Lumbar Waist Comfortable Back Braces - Adjustable Comfortable Back Braces Give you support while still allowing you to retain your range of motion. This is extremely important because by retaining your range of motion, your muscles can continue to work and strengthen. 
Results & Effect:
• Made with 6 pieces of segmented hook and loop fasteners, you can adjust the tightness according to your needs.
• Increases your body temperature and boosts calorie burning.
• The belt is designed to help you get the support you need for all-day and all-night comfort.
• Each binder is designed to cover a wide range of waist measurements to accommodate weight gain or loss and is crafted with multiple elastic support panels to prevent belt rolling.