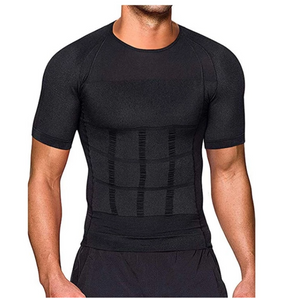 Men's Belly Shaper Shirt ~ Great For Work & Gym Attire!
Smooth body lines and core support, reinforce the lower back
Comfortable, unlike other similar products on the market or girdles. You'll feel comfortable and confident wearing it
Looks like a normal singlet under clothes
Material: 80% Nylon and 20% Spandex
Effectively hides bulges, bumps, and rolls, allowing you to look thin and trim
Makes you look inches smaller and thinner instantly
Helps to protect the spine from backaches and muscular fatigue
Firming panels comfortably trim and tighten your abdomen, chest, and back for a lean appearance
Sizes: Small, Medium, Large, XL, XXL
Size Chart
Small: Chest 35" - 38"
Medium: Chest 38" - 41"
Large: Chest 42" - 45"
XLarge: Chest 46" - 50"
XXLarge: Chest 51" - 55"
Men's Belly Shaper Shirt
Great For Work & Gym Attire
The fit was good and very happy with purchase
Looking Tight
Makes my body look tight, rather than flabby.
I love the shirt!!
I love how the Belly shaper compression shirt 👕 enhances my workout!🏋️‍♂️ I also love how it enhances my style as well! 💪🏿👍🏿
Make dreams a reality
I use this product for motivation. Just as much as the support it gives me. I look forward to the next 6 months of working out. Thanks