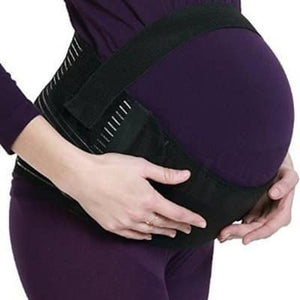 Premium Pregnancy Support Maternity Belt
As your baby bump grows, more stress is put on your lower back and lumbar regions which is being pulled down by the belly weight. This pregnancy belt gives support to the lower back by redistributing weight & pressure more evenly. Designed to gently cradle your growing baby, it also relieves pressure on your bladder; meaning less trips to the toilet.
SUPPORT - Wraps around your belly, Lower Back and Waist which lessens the burden of pregnancy weight.
LOWER BACK HEALTH
 - Supports the lower back by redistributing pressure more evenly around the surface area covered by the back support.
DISCREET
 - Designed to be both comfortable and discreet, this pregnancy belt can be worn over or under your clothing.
COMFORT
 - Relieves pressure on the bladder, meaning less trips to the toilet.
PREVENTS STRETCH MARKS
 - Designed to help reduce the chance of developing stretch marks during pregnancy.
DISCREET AND ADJUSTABLE
- The 3-inch wide design is breathable, fully adjustable and thin enough to be hidden under clothing.
Maternity belt
I ordered it for my daughter she suffere from backaches and it seems to help her when she goes for trips to the store when she needs to stand and walk for periods of time
Extreme Relief
I'm happy to say that today is my first day putting on the belt. I can significantly feel a relief in my lower back as soon as I put it on. I'm only three months pregnant and my back has bern one of the biggest issues I've had so far during my pregnancy. I'm so thankful my doctor recommended a maternity belt and I found this one. She said the one with the most straps to secure would work and she was absolutely right. Thank you for helping me get the support I need during my pregnancy.