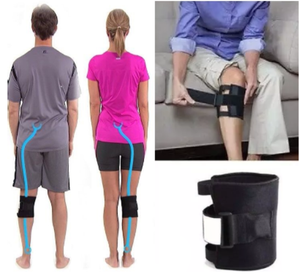 Sciatic Nerve Brace ~ Sciatica Acupressure Leg & Back Pain Relief!
Our Sciatica Brace is the best for fast and effective sciatic back pain relief.

The secret is the patented pressure pad in the brace that applies targeted pressure to the pressure point behind the knee that provides sciatic and related back pain relief.
The Brace helps relieve tension up the sciatic nerve. It helps ease discomfort in your lower back, buttocks, and legs. Just slip it on and tighten the strap, and feel the pain diminish.
Helps reduce both short term and chronic sciatic back pain. The Sciatic Brace is quick and easy to apply. Works on either the left or right leg. Discreet and easily hidden under clothing, yet comfortable enough to sleep in. Adjustable to fit any leg. Holds firm while exercising or at work.
The patented pressure pad in the brace applies targeted pressure to the specific point that provides back pain relief! The Brace is FDA approved for Class 1 Medical Devices!
Quick and easy to apply . The Sciatic wrap should initially be worn for up to 2 hours at a time. If it remains comfortable, the wrap can be worn for longer periods as needed.
TESTIMONIALS
Had major sciatica pain for such a long time. I have had 2 back surgeries since. I have used the brace, I have had little or no pain. Hard to believe that this brace could make me feel so much better. l highly recommend this product. Can't live without it.
-John lynch
Was completely astounded it really works for me, So far amazing! After 4 years of pain thank you.
-Judy Donnell
I've purchased two and they work very well! Especially at night, Great to relieve pain and get a good nights sleep without taking a pain Med!
-Fred Lewandowski
Amazing, I am so pleased with the results and would recommend it to anyone
-Virginia Lewis
StabilityPro
This leg strap is awesome. It does not take all the pain away but you are able to function with minimal pain.
IT WORKS
works great. so far so good. Pain is gone from back of my leg
Active sciatic nerve light weight brace
This brace is very lightweight, comfortable and easy to put on, l wear it every day and it really helps relieve the pain in hip/leg and lower back for my sciatic nerve and my Chiropractor approved.
Helps, helps, my sciatica.
Miss it when not wearing it.