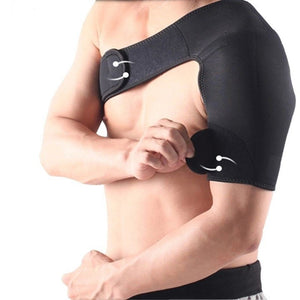 Shoulder Brace Compression Support Sleeve ~ Relieve Shoulder Pain!
Are you suffering from shoulder pain? Fear no longer! This Shoulder Brace is here to save the day! 
Designed for 100% Comfort while supporting your shoulder for strains, sprains, and rotator cuff, it's finally time to say goodbye to shoulder pain!
The support is designed with both daily, recreational, and sports activities in mind. With the increased bloodflow, the cells in your body will recover rapidly to improve your shoulder's condition. 
It is extremely comfortable to wear and incorporates neoprene material to ensure maximum airflow, user comfort and support. It is also fully adjustable in multiple areas and provides optimum support and compression. 
Takes less than 15 seconds to wear and you can use it while playing sports or even while doing daily activities to maximize recovery. Wear your shirt on top of it and you're good to go!
Suitable for frozen shoulder, rotator cuff and chronic shoulder conditions.
Disclaimer: Although you may not feel the difference overnight, overtime the increased bloodflow to your shoulder will almost guarantee it will get better.
Restricts against unsafe movements to promote healing and prevent re-injury
Strong fastener system secures brace adjustments for a nonslip, customized fit
Unisex and adjustable design 
Easily fits under clothing with minimal visibility
Temperature-regulating blend for all-day comfort
Fit perfectly
Love it...it is worth the money.
Shoulder brace support sleeve
I really like this product, it's very comfortable and it gives me the support I need while I'm working throughout the day...
Great for my workouts.
Also the brace allows my ice pack to slide under the brace post workout! Thanks I will purchase again!
Works great!
Ordered it for my husband he loves it. Now he complains about his shoulder without it. Says he can really tell the difference!