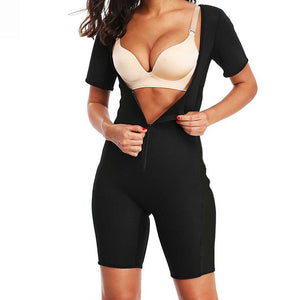 Full Sauna Body Shaper Weight Loss Sweat Suit
Achieve the perfect hourglass figure with The Full Body Thermal Weight Loss Shaper. This shaper creates a flattering silhouette and provides back support, all while spurring weight loss. The tight-fitting garment creates a cinching effect, and it also traps heat to accelerate perspiration in core areas!
If you are one of millions of people that work out for hours but don't really break a good sweat, get demoralized and end up quitting...then STOP and continue reading! Motivation is KEY in a weight loss program and breaking a sweat is proof of your effort and compromise with your goals, while helping you to reach them! 
IDEAL FOR HOT YOGA, ZUMBA, CROSS FIT AND CARDIO
The Body Suit is Super Comfortable and very easy to get in & out of due to the unique zipper design!
STICK TO THE PLAN AND GET MOTIVATED WITH ONE SIMPLE GARMENT THAT CAN MAKE YOU SWEAT UP TO 3 MORE TIMES THAN NORMAL!
Get a jump start on your program

Get the motivation you need

Feel good after each workout

Get rid of excess water weight fast

Get rid of skin toxins and prep your body for 

fat loss

Increase your metabolic rate

 
The Sauna Suit  has two main effects:
Creates a sauna effect increasing your core temperature and metabolic rate making you sweat

Gives your body the compression you need to mold your shape immediately. Flatten your stomach and control the muffin top
Didn't fit me it immediately rip as soon as I try it on I'm only 185 pounds at 5'4 I don't recommend it at all
Full Sauna Body Shaper Weight Loss Sweat Suit
Excellent
Was a little snug but i love it and have been enjoying it since i got it
Love it
I love this product. When I take it off, I'm dripping sweat and sometimes just by doing housework. A+