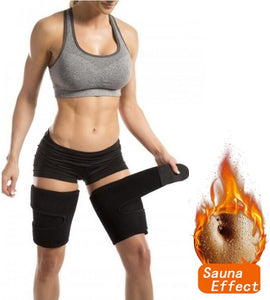 Thigh & Arm Fat Burn Sauna Wraps for Weight Loss
Looking to slim & tone your thighs or arms or both? Help increase heat and sweat to your thigh & arm areas so you can get the most out of your workouts. Burn more fat and boost your metabolism!
Each purchase includes two latex-free neoprene of thigh or arm trimmers for both men and women — a left and right trimmer with double Velcro closure for ultimate comfort. Or you can purchase a full set to increase fat burning for both your arms and legs!
READY, SWEAT, GO!: Increase heat and sweating with thermal compression to the thigh or arm area during exercise using StabilityPro Sauna Trimmers.
SUPERIOR CRAFTSMANSHIP: Made with high grade latex free neoprene for ultimate thermal insulation and double stitched for superior durability.
ANTI-SLIP: StabilityPro Thigh & Arm Trimmers are made with an inner anti-slip grid that repel moisture and eliminate slipping or rolling during your workout.
CUSTOM FIT: Each Trimmer comes with a left and right piece (view tag) that are designed to contour and flex around your thigh creating the perfect fit for your shape and size.
Best used to help slim your body, tone muscles and promote natural fat burning.
The Neoprene material creates a "sauna" effect that will help you burn more calories & fat.
Provides adjustable athletic support to your thighs, hamstrings and quads.
Thigh & Arm Fat Burn Sauna Wraps for Weight Loss
More Than Expected
I love this product. It is more than I expected. I look forward to working out in them or just wearing them daily.
Thigh & Arm Fat Burn Sauna Wraps
Three weeks into my workout regimen with the use of the arm sauna wraps, seeing results in the targeted area.