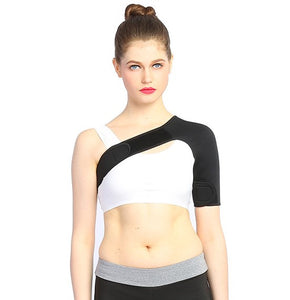 Women's Shoulder Brace Compression Sleeve Support Strap
Are you suffering from shoulder pain? Fear no longer! This Shoulder Brace is here to save the day! 
Designed for 100% Comfort while supporting your shoulder for strains, sprains, and rotator cuff, it's finally time to say goodbye to shoulder pain!
The support is designed with both daily, recreational, and sports activities in mind. With the increased bloodflow, the cells in your body will recover rapidly to improve your shoulder's condition. 
It is extremely comfortable to wear and incorporates neoprene material to ensure maximum airflow, user comfort and support. It is also fully adjustable in multiple areas and provides optimum support and compression. 
Takes less than 15 seconds to wear and you can use it while playing sports or even while doing daily activities to maximize recovery. Wear your shirt on top of it and you're good to go!
Suitable for frozen shoulder, rotator cuff and chronic shoulder conditions.
Disclaimer: Although you may not feel the difference overnight, overtime the increased bloodflow to your shoulder will almost guarantee it will get better.
Restricts against unsafe movements to promote healing and prevent re-injury
Strong fastener system secures brace adjustments for a nonslip, customized fit
Unisex and adjustable design 
Easily fits under clothing with minimal visibility
Temperature-regulating blend for all-day comfort
Working great for me at night when sleeping . Prior to this everytime I would move during my sleep the shoulder pain would wake me up !
Shoulder brace
Help keep my shoulder stable
Amazing Help!!!
I researched long and hard to find a brace that might help support my shoulder after two rotator cuff tears that might require surgery. My surgery date is May 6. My injury was February 27 with issues before my fall. Since I have been wearing this brace and icing religiously, and letting it heal by resting it and not lifting anything my pain has diminished by 90%! I tested removing the brace last night while I slept and ended up putting it back on at 3am because of pain. I'm certain this brace is helping my shoulder heal on its own and I'm considering skipping surgery and healing through PT. I don't think I need it now! If you have torn rotator cuff tendons and are in pain...don't hesitate to order this brace. I ordered two so I would never be without when one is in the wash. Look for discounts...they are out there!
Stability Pro shoulder brace
Pulled all the muscles in my right arm and hurt my shoulder. This brace helps calm everything down.