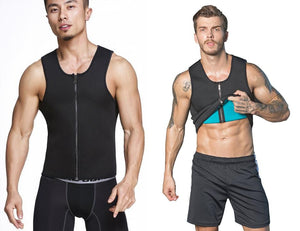 Men's Waist Training Zipper Sauna Vest - Burn Fat and Tone Up Fast!
BURN FAT: Designed to maximize the fat-loss and muscle toning results that you're aiming for when working out at the gym, you'll reach your fitness goals faster and easier than expected with significantly less effort!
FAST ACTING: By heating up your muscles and making you sweat 3 times more than usual, the thermal vest helps you prevent post-workout fatigue and injuries, release toxins at skin level, speed-up the calorie burning process and trim inches off of your waist quicker.
UNIQUE DESIGN: Our model is easy to put on and take off since it has a zipper! One of the key calorie-burning enhancing features that the vest has is the internal thermal active layer, which stimulates perspiration and significantly speeds-up your metabolism.
SHAPE YOUR BODY: Flatten your abdomen and eliminate unsightly back rolls instantly. Ultra-lightweight with a second-skin flexible fit, ideal to be worn during daily activities and workouts.
BURN BELLY FAT
The Shred Vest Waist Trimmer Promotes Weight Loss to the Abdominal Area by Increasing Blood Flow To Stubborn Fat Cells. Use it Every Time you Work Out, Whether You Go for a Run, a Walk, do Yoga or go Cycling, You Can Now Maximize Fat Loss and Burn Stubborn Belly Fat Fast by Mobilizing up to 3X More Fat From your Abdominal Area. It's Like a MOBILE SAUNA AND FAT BURNER FOR YOUR WAIST!
Wonderful! This sauna vest is perfect. Within the first week of wearing it I lost 9 pounds, this really works!
-Dwight Hawthorne 
I use it when I do my Lax Tralner Biwflex 3 times a week for the past three weeks. It's great because it holds my Abs & Belly in.  After 39 days I already got flatter Abs.
-Alfred Dais
Nice! The Sauna Vest works great!
-Edwin Jimenez
The Zipper broke already.
👍🏾
Works great & yes it makes you sweat!!
It works great and it fits great I'm busy another one